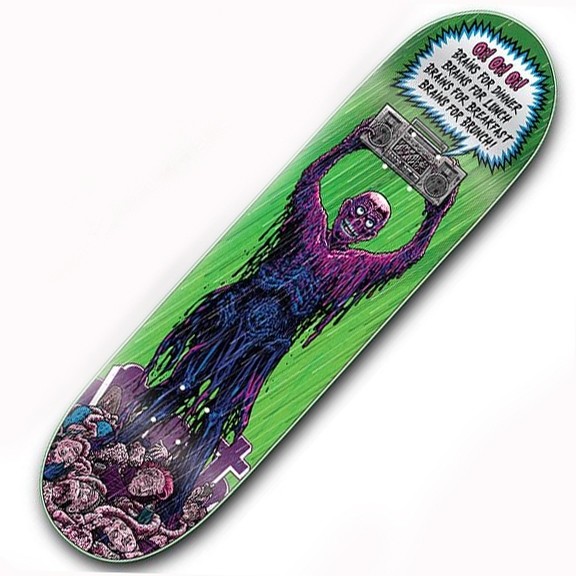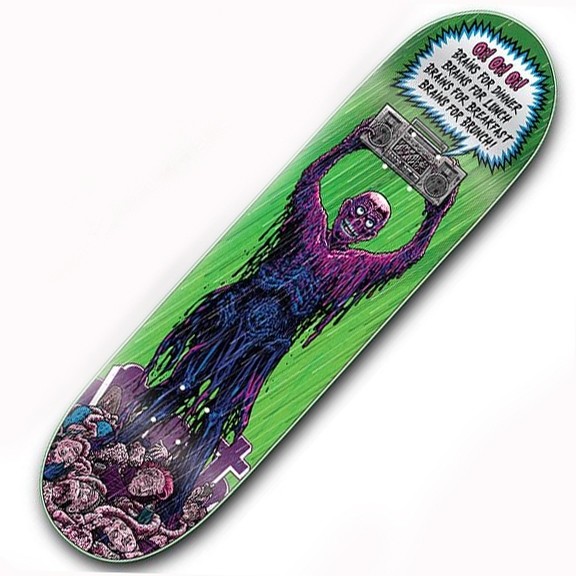 StrangeLove
Sean Cliver/ Brains
Description
Artwork by Sean Cliver (signed)
Manufactured at PS Stix
Screen-printed at Screaming Squeegees
Dimensions: 8.75 x 32.875
Specs: Nose: 7.25 / Tail: 6.75 / WB: 14.75
Product Description: Much like the Space Shuttle Challenger disaster in 1986, I can tell you exactly where I was the first time I watched Return of the Living Dead in 1985. It was showing at the late, great Fox Theater in downtown Stevens Point, and I went with my friends Brad Overacker and Brian Chojnacki (pronounced "why-not-ski" believe it or fucking not). We were damn near close to being the only ones in the theater and it was… a life changer, to put it mildly, as if God Himself had dumped a great big cosmic bucket of chum on top of my head Carrie-style. Zombies that moved with the quickness? Humor drenched in velvet waves of rich, dark red blood? A punk soundtrack that made you want to fuck the dead? Okay, okay, I sure as heck didn't go full-blown "Code Blue," but I'll be damned if Dan O'Bannon's riotous feast of flesh didn't push my pen in a more definitive gory direction—one that would soon meet the heretofore unknown world of skateboarding, like a match made in Hell. So yes, this is indeed my love letter to the horror genre and all the great B-movie girls like Linnea Quigley, aka Trash, who made my heart say anything for the strange.
Important: This isn't a trick, but please note that all orders for this board will ship on October 30th making it a treat-in-transfer on All Hallow's Eve.
Warning: Since the dawn of mankind, top stain veneers have come in a variety of colors and the one shown here is for display purposes only. In other words, we cannot guarantee a specific color so please be pleasantly surprised with the one you receive and not get all bent and butt-hurt about it.